Hi all,
I've been busy lately on another challenging project for Peter Lamburd. This 6 string bass takes its inspiration from Fodera's latest 'flagship' hollow body builds.
This bass has a 36" scale, American red oak neck with a birdseye maple fretboard. The neck also has a black veneer along its length that also continues along its headstock. The headstock is veneered on both the upper face (Spruce) and the rear (birdseye maple). Inside the neck is a collection of two truss rods (Peter wants this neck to be thin) and a a number of carbon fibre rods. The fretboard has a 20" radius and has Paua shell dots on its edge.
The body is double thickness alder which has a centre veneer and two outer veneers of black. Covering this will be carved front and back plates of spruce. The neck will have an extensive rear cut-away behind the upper twelve frets, but will not have a tummy cut. (Peter doesn't need one!!!) Inside the body will be a block area that the neck glues into, and a tail block to hold the string retainer. Other than some internal top bracing (rather like a jazz guitar) the inside of the body of this bass will be all hollow.
The bridge will be made of birdseye maple and the string retainer from gold plated brass. This method of bridge worked brilliantly with Peter's blue bass so we thought that we'd go there again.
The pickup is a Nodstrand A5 humbucker housed in a birdseye maple cover and as with Peter's blue bass, there will be nothing in the signal chain other than an on/off switch that has a third position that puts the signal through a capacitor to create the sound of a half turned down tone pot.
All parts that are metal will be gold plated and sticking with the gold theme the satin nitro paint will also be tinted to a yellow/golden hue.
So some picks of the project!!
The body template sitting on one of the spruce plates.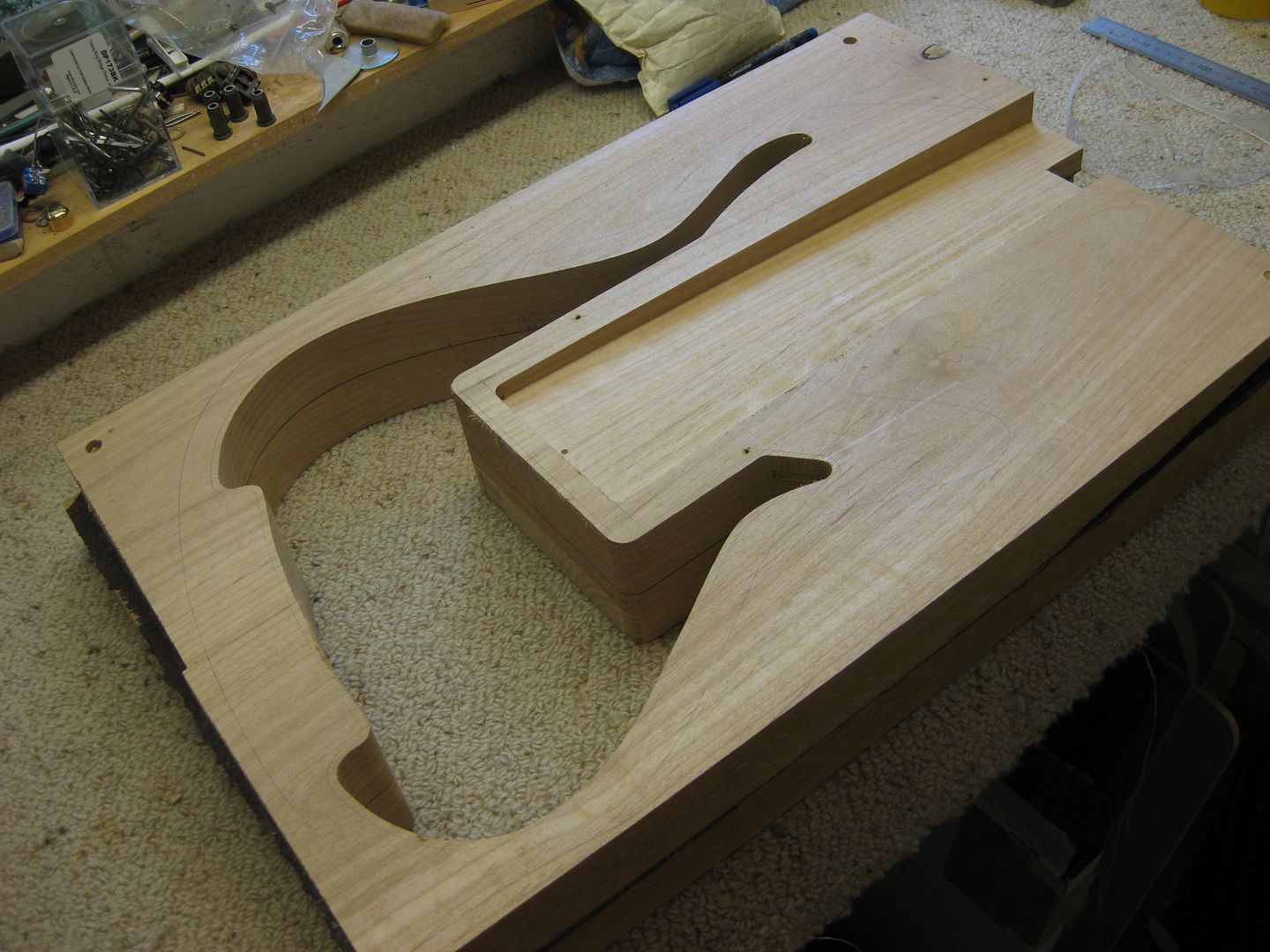 This shot shows the areas inside the double thickness body that are hollow. Also the neck block (to be cut down extensively before gluing the neck in place.