POST EDIT 29-03-2012
In this first post you can see all the Fender Custom Colours that were offered in the 60's. I can offer all these colours on my basses. I bought original car paint chips from the 50's and 60's to get the true original colours and can have these paints matched locally. All pics below, I should probably mention that these are offered only on full builds, there's unfortunately not enough days in a week for me to take on refinishing work. Additional to these colours I can also do sunburst, blond and Candy Apple Red
End EDIT
I was just reading MrMow's Daphne Blue Jazz sale thread and saw the GAS from a few members (I'm pointing at you SpankyAndy
) in there for the vintage custom colours and tought it would be a good idea to post this thread up and not pollute MrMow's sale.
I've been collecting original car paint chips from the 50's for the last couple of years in the hope of getting all of the Fender pre-CBS custom colours. I already had a few of them until I fell onto a website advertising a book, Fender:The Golden Age 1946-1970, it had the best pics I had ever seen of the original Fender Colour Charts on it. The book btw is absolutely gorgeous, anyone that love looking at beautiful pictures of vintage Fender gear should get it, I could get lost in it for days.
Here's the colour charts in question, my available colours to be seen after.
This one is the colour chart that came out in 1961, it was their first official one and kept in print until 1963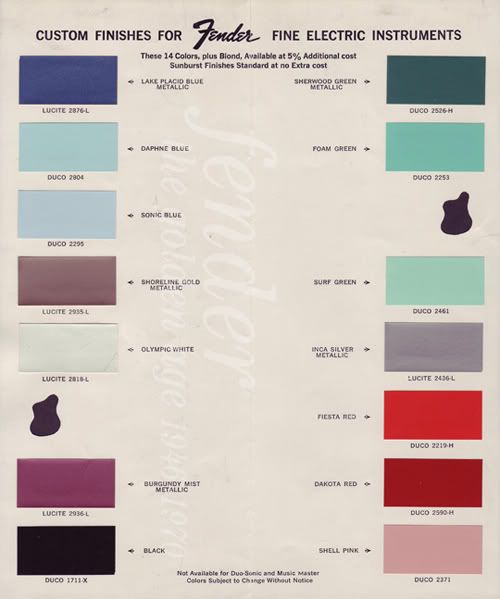 This one was the available colours from 1963 to 1965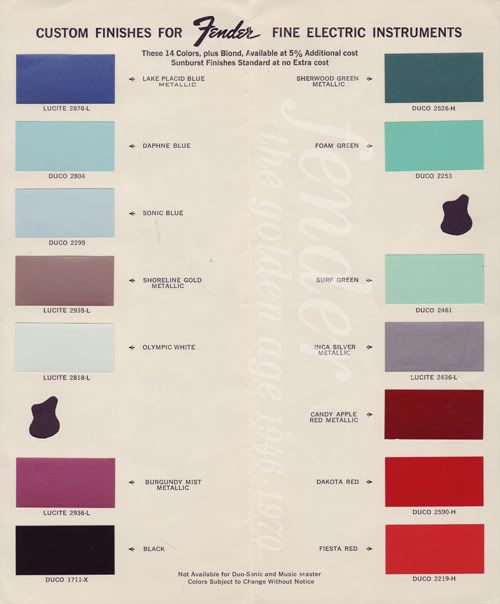 This colour chart was used from 1965 to about 1970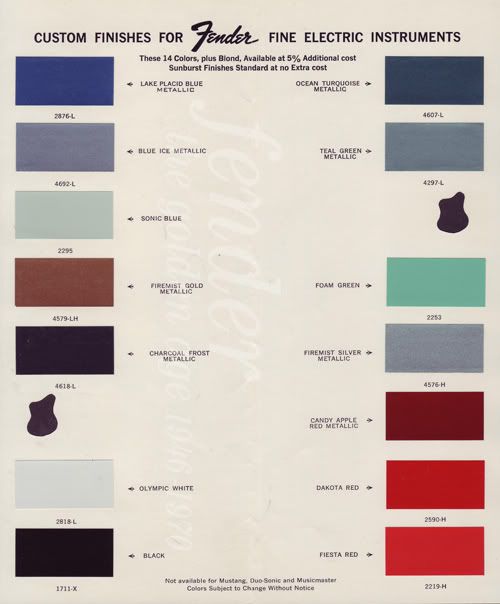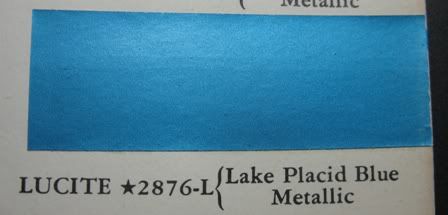 Lake PLacid Blue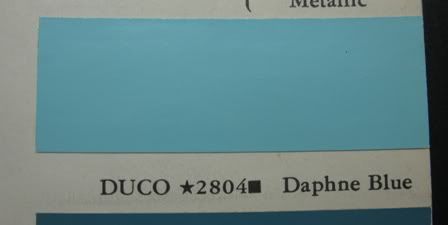 Daphne Blue
Sonic Blue

Shoreline Gold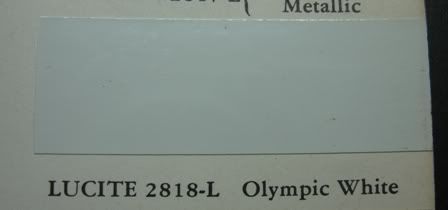 Olympic White

Burgundy Mist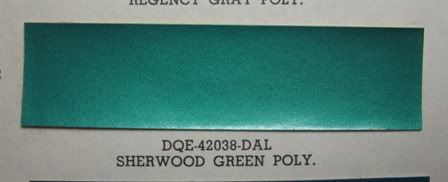 Sherwood Green

Foam Green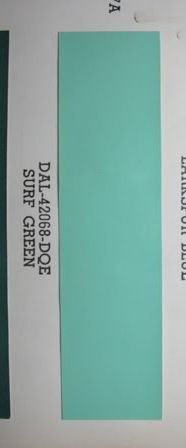 Surf Green

Inca Silver

Fiesta Red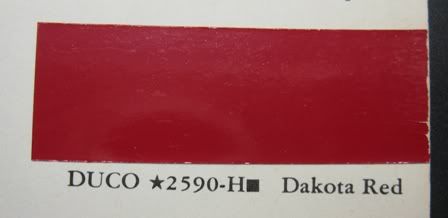 Dakota Red

Shell Pink

Blue Ice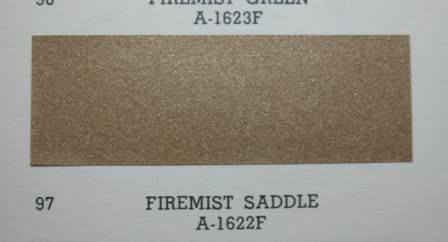 Firemist Gold

Charcoal Frost

Teal Green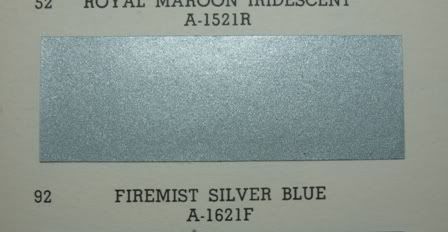 Firemist Silver
Still missing Ocean Turquoise, to come soon
I found and bought the Fender The Golden Age book just a week ago and having found these colour charts made me more motivated to find the rest of the vintage colours so I went and bought more car chips. Already bought waiting to come in the mail are these colours, pics will go up when I get them.
Foam Green
Sonic Blue
Surf Green
Inca Silver
EDIT: Well I went and did it
after I posted these I looked up which I was missing and saw there was only Shoreline Gold not in there so I went on Ebay and bought it, so soon to come pics of that one too.
BTW I should probably mention that Candy Apple Red was the only true custom colour. Fender created this colour themselves so there's no car paint chips available for that one. CAR is made by spraying a white metallic paint on the body and spraying a tinted red lacquer over it.