this is going to be just one long random blog of my various projects. This is guitars, acoustics and basses. I'm just an enthusiast open to suggestions and looking for any excuse to build something.
The uncles Telecaster. The back story, my uncle got me into playing guitars when I was very young and took me to buy my first guitar. Which I still have. He's an amazing blues guitarist and set me on a musical path that's been with me my whole life. Last year he had all his guitars stolen and sure insurance replaced them but I thought this is an opportunity to say thank you for a lifetime of guitar playing.
the build is:
Neck: maple
fretboard: gidgee
body: New Guinea rosewood with camphor top
fretwire: evo gold
pickups: Mick Brierley custom alnico 2 pickups
bridge: Mastery bridge
trem: Bigsby B5
tuners: Gotoh 510 locking
chambered body
drilling the top so we don't have slip when gluing
roughed on the band saw
refining the shape
cavity and pickup route
truss rod route
neck fitting
fretboard radius 9 1/2"
fret slotting
gidgee is really nice looking wood but it is stupidly hard and kind of to fret
didn't like the square neck heal so i've curved it and blended it with the fretboard. Really happy with how it turned out it works really well.
mapping out the neck carve. it's asymmetric and ball park the SRV strat profile just a bit thinner.
you get the idea of the neck transition and how it flows into the body
setting the scale length. And the two random holes. the mastery bridge uses thimbles like a les paul style bridge.
with the bridge in place
first coat on the neck
second coat
David preparing for battle
still wet
I prefer a matte finish to gloss
I'll be back in Melbourne in a couple weeks to do the final assembly
my next build I've been kind of plodding along with is my 50's P bass. haven't really been taking many photo's as it's a workhorse build that's been off templates. utilitarian but should sound great.
neck: maple
fretboard: maple
body: Australian red cedar
bridge: wilkinson
pickups: Mick Brierley custom alnico 2
I wanted a wood that had similar density as basswood. with the alnico 2 and wood this I'm hoping will be fat and warm.
the fretboard
not an visually interesting build but it's not meant to be.
and another project I'm working with a local Canberra luthier with is underway. As part of that build I had Tom purchase two pieces of African Blackwood before cites kicked in.
it really is very pretty wood
I'm also currently building but don't have many photo's for
Ibanez JEM 7 string. I'm actually doing a neck through multiscale version with Aussie region woods
Ergonomic headless 7 string multiscale version 2. it's currently about 65mm and I need to route before I jump like an idiot again into doing a radius in the body. I have devised a quicker way to do it I just need to build the routing jig.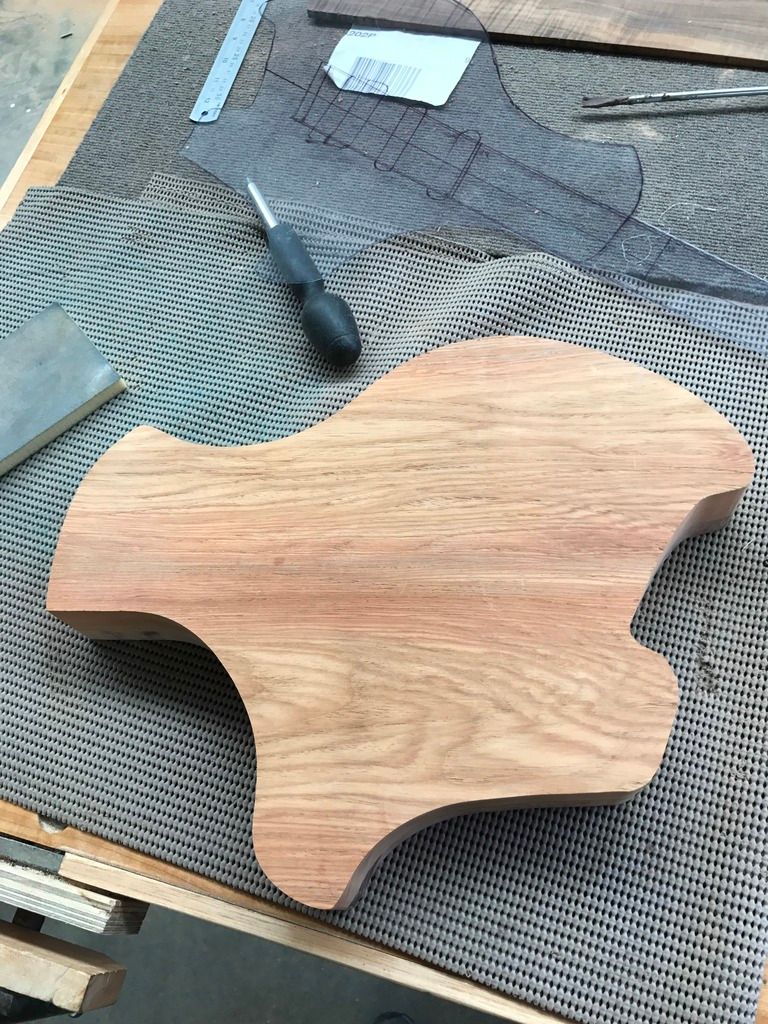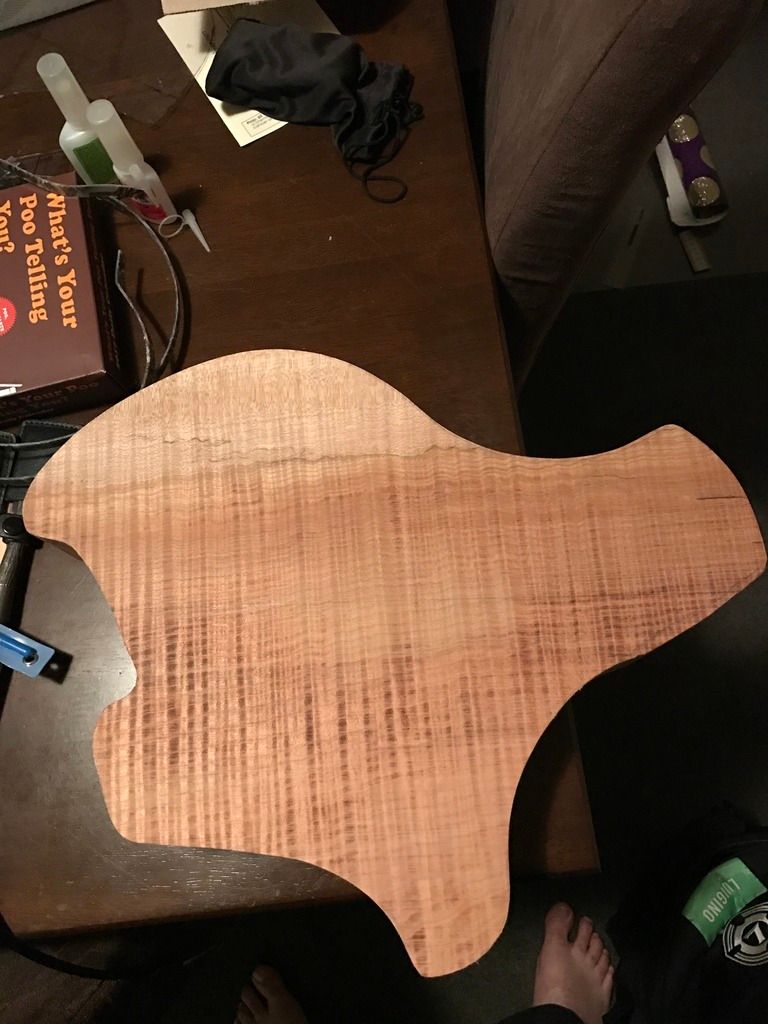 Also working on another acoustic
adirondack spruce soundboard with ziricote back and sides with pale moon ebony fretboard. Haven't worked out what I'm going to use for the neck yet but I have some time. Falcate bracing for something different. I'm also laminating the sides with tassie blackwood,
doesn't look much but this spruce is from what I'm to understand the cream of the crop for sound boards
fretboard is a bit sexy in my opinion
I was marking out the sides for trimming but you can still see the grain.
decided to use the off cuts as the base of my rosette.
back is rough shaped and sanded down to thickness 2.3mm
I'm also teaching myself how to do an archtop solid body. I've decided to do a really thin style inspired by Jens Ritters guitars.
I did the initial shape with an angle grinder and flap disk. I'm onto scrapers now and it's getting closer but it's a slow process. At least for me.
flap disc
scrapper (sorry for the poor lighting)
the back, flap disc
just started with the scrapper
I think that's everything for the minute ?