Edit Update: My bass is finally finished as of 6th March 2017. Unfortunately, I have still not received my bass. The BMT Custom Guitars website has now shut down. Correspondence via email, letter, message and phone has ceased from Brad. I am aware of at least six other customers, who have paid in full, and have not received their basses or refunds or any communication at all. In summary, unfortunately I have been robbed by someone I trusted. Take care people.
The Sydney GTG either inspired me or ruined me for the ordinary. There's only so much exotic wood and multi-scales one can experience before heading down that path themselves.
While I'm planning of making a new fretless neck for my current bass, I've sold some gear and have started a build with Brad from BMT Custom Builds in QLD. My thinking behind a custom build was to be able to have something created that wasn't readily available - something somewhat unique.
So I'm having built a short multi-scale fanned fret bass. Specs:
5 string
31"-33" multi-scale length
Swamp Ash body
Australian Camphor Laurel top (and matching headstock cap)
5 piece Maple/Purpleheart neck
Birdseye Maple finger board with offset black blocks
Black Hipshot Solo bridges
Hipshot ultralight tuners
EMG DCX bridge pickup
EMG CSX neck pickup
EMG BQC preamp (volume, balance, stacked bass/treble, concentric stacked mids)
Dunlop strap locks
Zero fret
Brad's been really helpful throughout the whole process. He's certainly passionate about making custom instruments.
This is the piece of Aussie Camphor Laurel that i chose for the top:
And here it is cut and book-matched:
We're going for a slightly smaller jazz bass body shape with slimmer contours and shorter lower horn. Here it is roughly sketched out: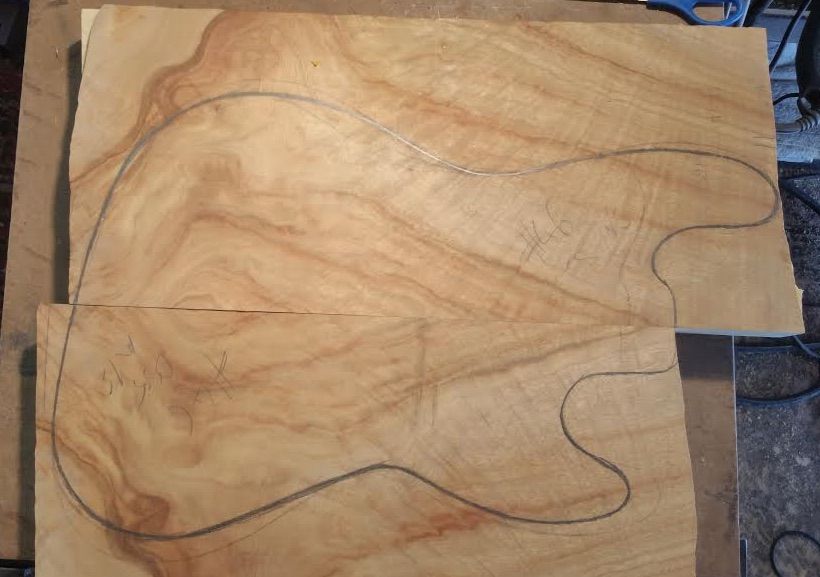 The swamp ash being prepared for the top. I love the grain on these pieces!
This is the fingerboard. A lovely piece of Birdseye Maple: To make the grain pop, I'm going for a gloss finish. There will be black blocks running from fret to fret but offset to the far left (10mm wide) - something unique.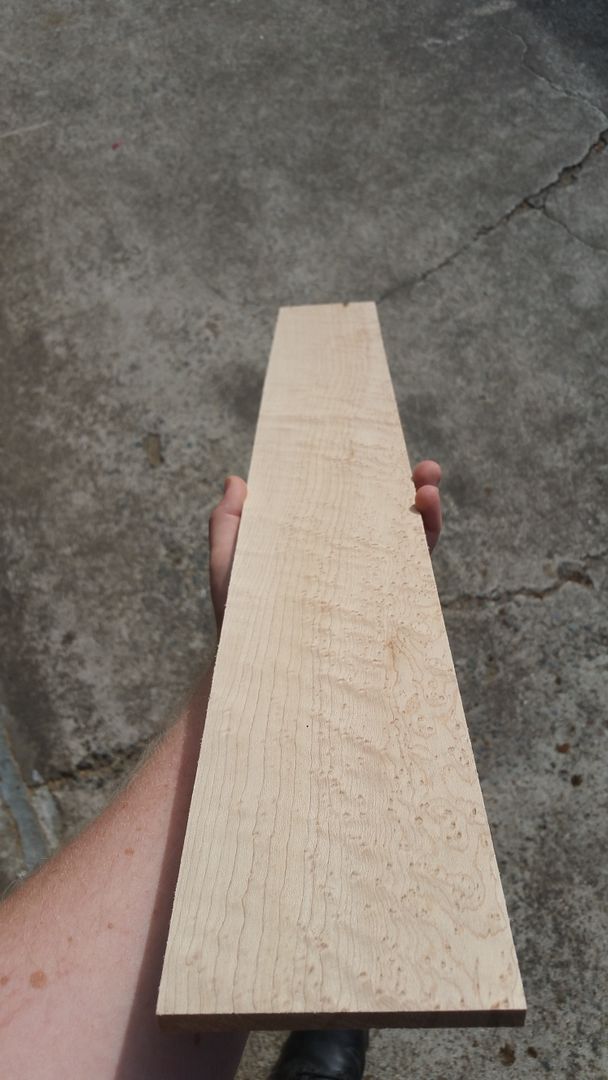 And a piece of Purpleheart: This will be used for the 5 piece laminate neck.
Here is the neck in progress: I think the Purpleheart and Maple make a great match. The back of the neck will have a smooth satin finish.
That's it for now. Hopefully, this will be finished and ready sometime in December. I'll keep you posted with updates and pics along the way.